Date created:
HOLA SYSTEMS CONFRONTING COVID-19 VIRUS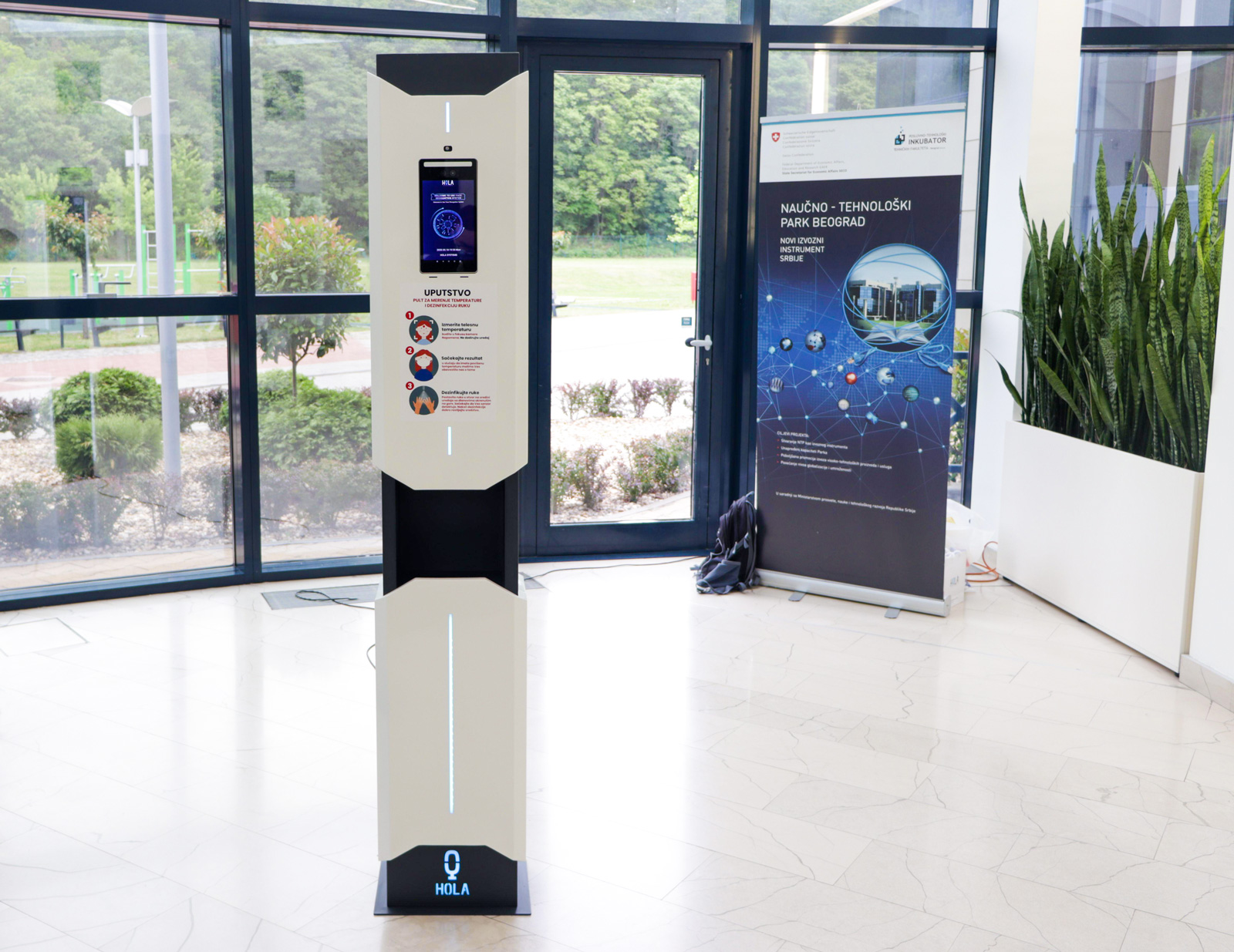 Hola Systems on the frontlines of the coronavirus pandemic battle
When the Innovation Fund of the Ministry of Serbia issued an urgent call to companies for innovative advanced solutions that can help in the epidemic and prevent the spread of the Covid-19 virus, we have already had a plan in our head written somewhere. That was control and security of a large number of facilities and protection of workers and users in factories, companies, health centers, public institutions, and other facilities where users and visitors must be protected.
It is very important to take preventive action against the virus at all times, and perhaps, even when the epidemic does not exist. This device would be great in protecting facilities such as theaters, cinemas, clubs, restaurants and playrooms, kindergartens, and schools.
Imagine that everywhere at every step you have devices for hand disinfection. On a global scale, you have created a system that will give better results in prevention by a few estimates. Imagine then adding thermal cameras to measure your body temperature. You can control the presence of that one person in a room with an elevated temperature and you can easily separate that person from the others. We got a few more estimates on a global scale. Masks, gloves, sterilization, and other types of prevention drastically raise the level of security. We find ourselves in a safe environment.
Out of 300 registered users, the Innovation Fund chose 12 very creative solutions, including ours. We have transferred ideas from paper to reality very quickly. From the import of certain components to the development of electronics, software, a studio recording of voice messages, mechanical design, housing, and other steps that accompany each development of the prototype. By working day and night, our small team managed to complete a huge job, which is further complicated by working at home and occasionally going to work.
Details about "Hola devices for non-contact body temperature measurement and hand disinfection" can be seen here.
We will be releasing videos and product images soon.
TAKE CARE! # stay at home
Tailor made hardware solutions
Expertise in various domains
You can leave your creative ideas to us. We offer an innovative approach to modern technology. The full commitment of our professional team of engineers and designers is tailored to your project. We can develop complex electronic and mechanical components.
We provide support & delivery
After the cooperation, the delivery of the device must be fast and professional. We take care of logistics, transport and protection against risks in transport through shipment insurance.
Partnership with major players in the industry
We provide our partners new ideas, a new perspective, we upgrade your business concept. Professional Hola's staff implements your every idea responsibly and with dedication. Respecting deadlines and agreed ideas is very important to us. Working with Hola Systems brings better results to your business.