Date created:
DIGITAL SIGNAGE IN SERBIA – CONCEPT, PURPOSE AND PRICES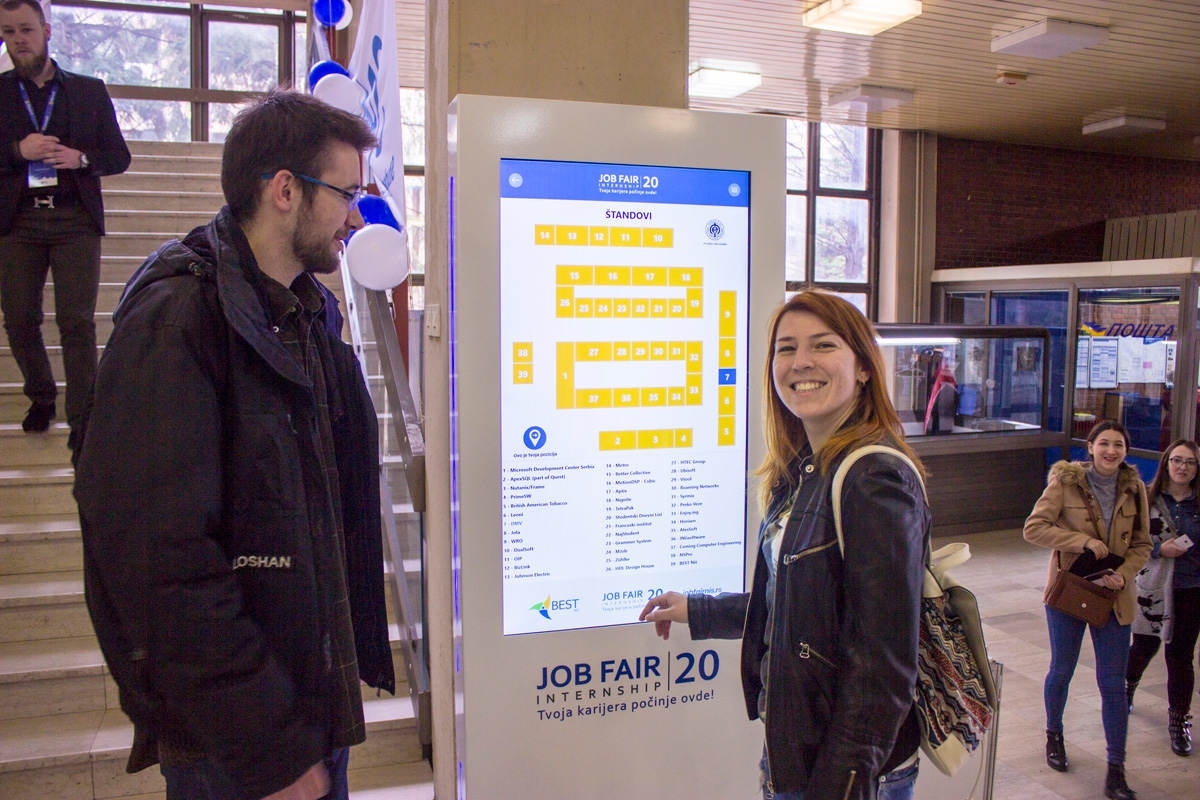 WHAT IS DIGITAL SIGNAGE?
Digital signage represents a new category of advertising. Besides advertising, digital signage has many useful characteristics. It is also an interactive device that guides the user to the desired information. Raises interactive technology to a higher level because interaction means closer contact with the product or content.
Through digital signage, you find products, their options, features and even the ability to try products from your home.
Digital signage is an interactive device that is easy and pleasant to handle. Primarily, this type of device actively participates in:
– Education
– Information
– Advertising
– Market analysis – supply and demand
Digital signage replaces posters, flyers, all printed materials you have used so far to advertise products and services.
Analyzes show that digital displays, on which products or services are advertised, have a greater impact than traditional printed materials.
Synonyms in the Serbian language for digital signage are interactive display, kiosk, totem. The basis of all these devices is the same, that's why we say synonyms, and the function we assign to them, content and characteristics, make this device personalized and make the difference in expressions.
WHY DIGITAL SIGNAGE?
The device brings new users to your services. Arouse interest and maintain the attention of users. It is easy to use, precise, and beautifully designed, so users enjoy approaching the device and doing the job quickly and easily, fun, and accurately.
Digital signage monitors your movements and draws attention, constantly informing you. Reminds users of the fact that they need some information or products.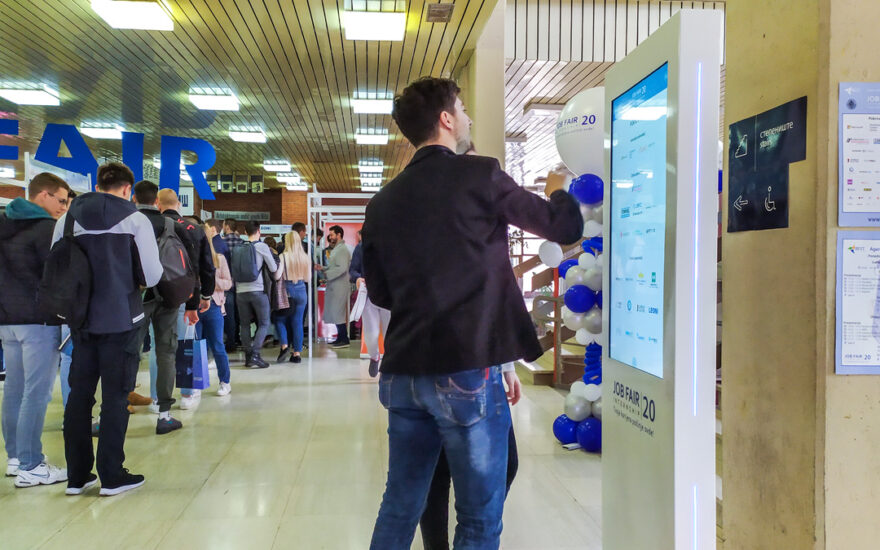 BENEFITS OF DIGITAL SIGNAGE DEVICES
– The device saves time for advertising, information and education.
– The products presented on the device become visible to a wider audience in different locations. Also, if the attractiveness of the offer on the display decreases, it can easily be replaced with a new one.
– The company logo can be located on the Digital Signage and so the company is advertised in various locations.
– No waiting in line! The hardest part of buying or doing some bureaucratic work is waiting. In restaurants, when potential visitors are waiting for a free table or ordering something, it will be easier to wait if they have a performance in front of them, interesting video commercials, various educational content, news, or the option to order via the device. It saves time for tourists by not having to be fully informed about the destination they are coming to. They are informed on that specific place.
– The device makes market statistics after use. For example, if the accommodation capacities of a tourist resort are shown on that device, digital signage makes a search analysis and leaves a reference trace to the end-user who can improve the offer using that statistic.
– This type of device is needed by companies that want an innovative way of presenting and advertising their products and services. Digital signage in space draws attention to itself, and therefore to products, and offers many possibilities. Search is easy and fast. Here you can see how it would look in your space as an AR application while the content of the digital signage is planned and aired on the display. You can see an example of the content that Hola does on the sample of devices for clinics and health care institutions.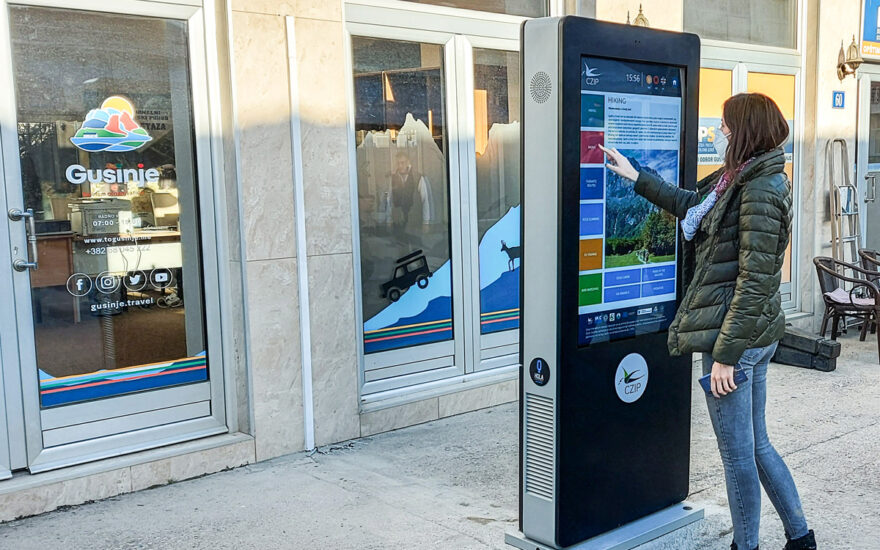 HOW HOLA DEVELOPS DIGITAL SIGNAGE
Team of engineers deals with the design and development of the device. Innovation and great knowledge are behind every device that has come out of Hola Systems.
Each new project aims at a new device that meets the requirements of the customer or the creator of the idea.
Electronics engineers are constantly in collaboration with a mechanical engineer, designer, and technician who construct the product into one whole. The engineers, with their exact story, took us through the process of creating the device and brought us closer to the place where the creative ideas of designers become a reality – the development sector.
The device goes through several stages before the final sales phase:
1. The first phase is the planning or developing
phase. In the developing phase, the hardware engineer tries to fit the hardware system into the construction and design, but the design adapts and changes according to the functionality. These changes are mostly minimal deviations from the imagined because the goal is to respect everyone's ideas.
2. In the simulation phase, the device encounters corrections and improvements in the achieved. Measurement is one of the procedures that accompany the simulation. The measurement is entered with a zero series, prototype, on which it is being tested. Using the measuring instrumentation, the engineer sees the deviations. When choosing the components, the goal is for them to be from Serbia. All the time when making electronics, the prescribed standards are respected and there are no deviations.
3. Testing is the pre-production phase and must be accurate, precise, and comprehensive. In the testing and verification phase, the digital signage is exposed to working conditions for several days. For example, if it is digital signage placed in a public place, all weather conditions and all circumstances that may affect the device are taken for examination.
Software and hardware are developed parallel so the device can be tested on time, like a prevent of being late.
4. In the production phase, the functionality is checked. Installation and wiring are approached and at this stage, all components are tested. Each component has its serial number so engineers can follow correctness and safety at all times.
5. The penultimate phase is sending a device in safe and correct work.
6. The last phase is called by engineers the feedback or positive reaction phase. Every reaction is positive because we improve the product through cooperation. It refers to customer feedback. The product has found its application and passes the most important test – the test given by the customer. If an omission is noticed, the team of engineers and technicians solve the omission as soon as possible.
The favorite phase of engineers is the development phase. In this phase, all energy and knowledge are aimed at realizing ideas or even increasing basic ideas. Each product is further distributed to the customer carefully and dedicatedly. The digital signage that came out of the Hall is suported by good teamwork, appreciation of suggestions and ideas. This is what makes our device being a good business partner, accurate, reliable, fun.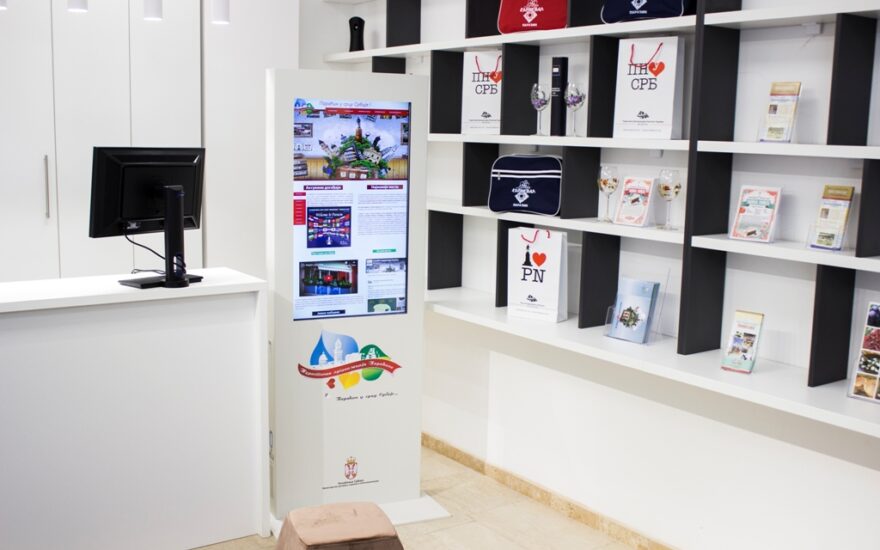 DIGITAL SIGNAGE IN INSTITUTIONS AND INDUSTRIES
Digital signage is represented in all branches of industry by many institutions and industries:
– Banks and financial institutions
– Schools and workshops
– Public places and warehouses
– Restaurants and bars
– Tourist organizations
– Construction, shipbuilding, textile industry, and many others
– Airports
– Private and public health facilities
– Sports centers
– City squares
– Museums
Many companies and institutions have already felt the benefits, so their experiences speak best about the necessity of such a device.
Hola digital signage has found its purpose in the following institutions:
– Tourist organizations (Niš, Paraćin, Aranđelovac, Bačka Topola),
– Municipality of Raška
– Institute for Treatment and Rehabilitation Radon
– Library in Leskovac
– Musiam of Ponišavlje Pirot
– Coworking centers (TI HUB and DELI space)
– IT Center
– Cultural center Leskovac
– Jacob System
– Vojvođanska banka
– New social initiative
– Parking service Nis
– Mercator DOO
– KADC (Kosovo Center for Advocacy and Development)
– CZIP Center for Protection and Research of Birds of Montenegro
You can see here how our devices will look like in bars, restaurants, tourist organizations.
HOW TO CHOOSE A DIGITAL SIGNAGE THAT FITS ALL YOUR REQUIREMENTS?
Depending on the space in which you want to place the device and depending on the purpose of installing the device, you can choose the right device. It is important to know the screen sizes:
1. Hola interactive device 32 " – Screen size: 32 "/ 81cm
2. Hola interactive kiosk 43 " – Screen size: 43 "/ 109cm
3. Hola interactive external device – Screen size: 49 "/ 124.5 cm
More detailed information about the devices can be found here.
Price is very important when choosing a device. You, as a potential buyer, should be aware of the budget you have. Depending on your budget, our company can plan a product tailored only to your needs.
The development staff of Hola Systems can adapt each signal to your request.
Every interactive display requires quality and meaningful content. Content defines your goals, your users. Concerning the content, the time that an individual can spend with digital signage is also planned. Your success is measured by content.
" ZAKLJUČAK : Digital signage is a necessary device in modern society. You can read on our site where Hola digital signage was installed and made great benefit for the company. Cities such as Pirot, Leskovac, Bačka Topola, and Raška have improved their business with digital signage device. In Prokletije, digital signage is a good start to digitalization in environments with a rich tourist offer."
Tailor made hardware solutions
Expertise in various domains
You can leave your creative ideas to us. We offer an innovative approach to modern technology. The full commitment of our professional team of engineers and designers is tailored to your project. We can develop complex electronic and mechanical components.
We provide support & delivery
After the cooperation, the delivery of the device must be fast and professional. We take care of logistics, transport and protection against risks in transport through shipment insurance.
Partnership with major players in the industry
We provide our partners new ideas, a new perspective, we upgrade your business concept. Professional Hola's staff implements your every idea responsibly and with dedication. Respecting deadlines and agreed ideas is very important to us. Working with Hola Systems brings better results to your business.