Date created:
CONTEMPORARY TOURISM IN PROKLETIJE: DIGITAL SIGNAGE ON BOTH SIDES OF THE MOUNTAIN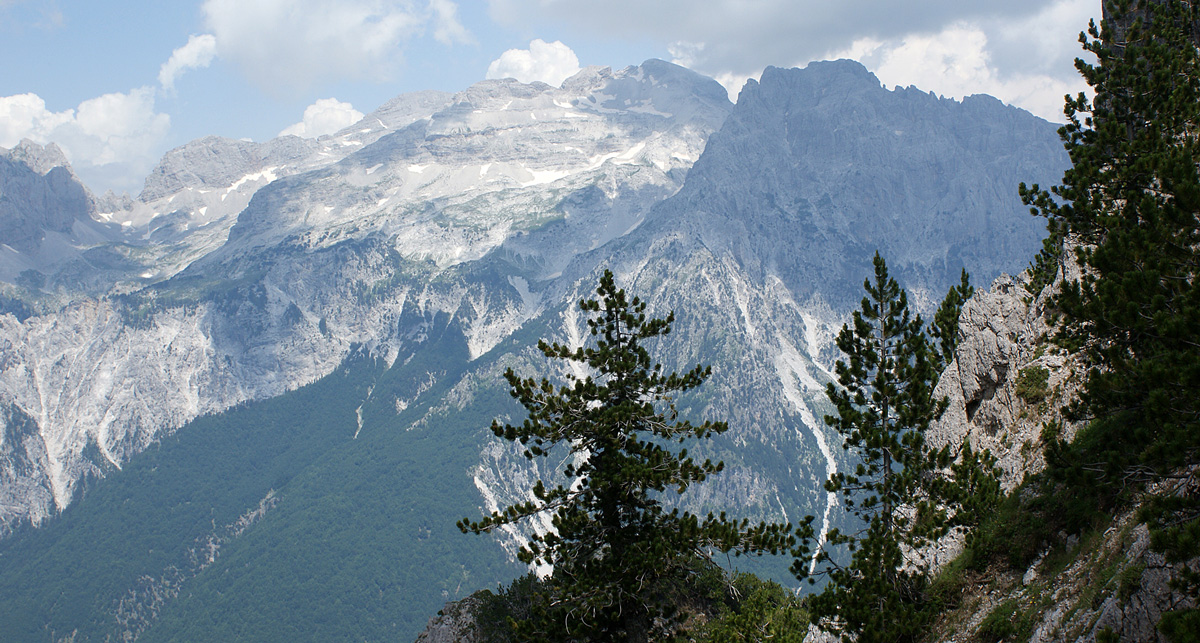 Within the cross-border project "Environmental and outdoor tourism actions of the Balkan Alps" between Kosovo and Montenegro, the development of tourism was promoted in the municipalities of Dečani and Gusinje.
The realization of this project, "Environmental and outdoor tourism actions of the Balkan Alps," is financed by the European Union within the IPA cross-border program Kosovo and Montenegro. Both municipalities have chosen Hola systems to innovatively and accurately present the mountain, its potentials, and the people who offer their services. The organizations that invited Hola systems to cooperate are CZIP Montenegro and KADC (Kosovo Center for Advocacy and Development).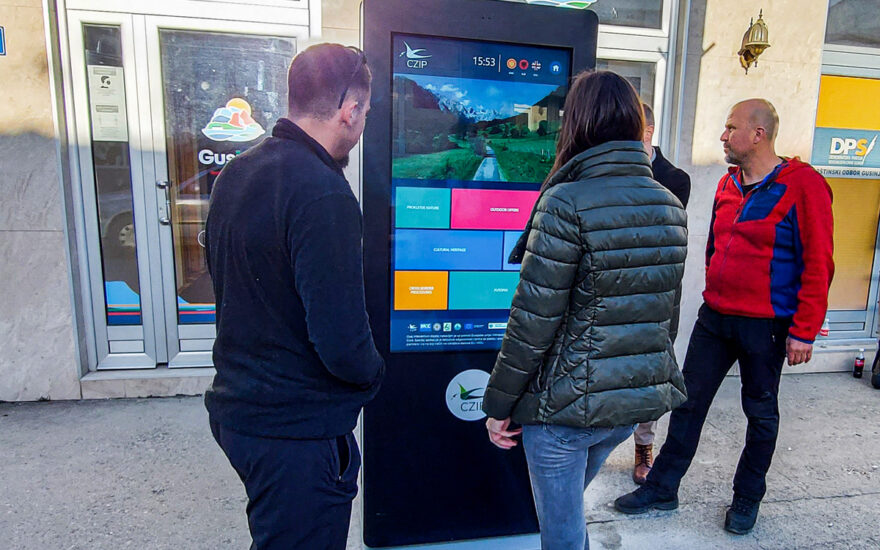 Prokletije is the natural border between the states, and that is a natural border with colossal potential. Both countries take great care of their population in municipalities such as Gusinje and Dečani. People who live in such places are people deeply connected to nature. They not only care about the environment where they live, but they have modified their habits to mountain conditions.The state takes care of its population who has very organized life under the mountain, investing in tourism development.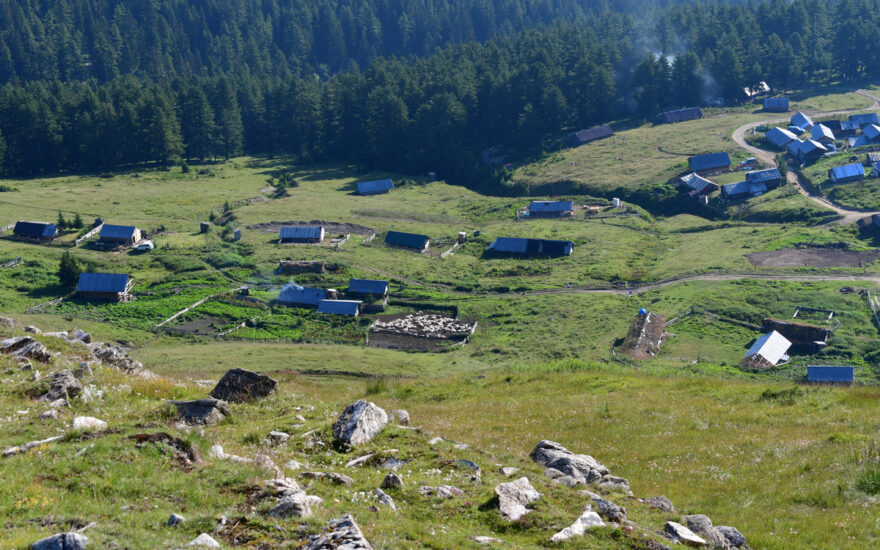 DIGITAL SIGN IS A GREAT BEGINNING OF DIGITALIZATION
Hola digital signage is a great innovation that is an excellent start to digitize places that are not sufficiently represented in travel guides. Hola digital signage through interaction with tourists and launching the application shows locations on the mountain important for hikers and mountaineers. The routes are in the tourist application from both sides- in Montenegrin and Kosovo. You can easily visit the whole mountain with the consultation of good guides who would take over the organization around crossing the natural border.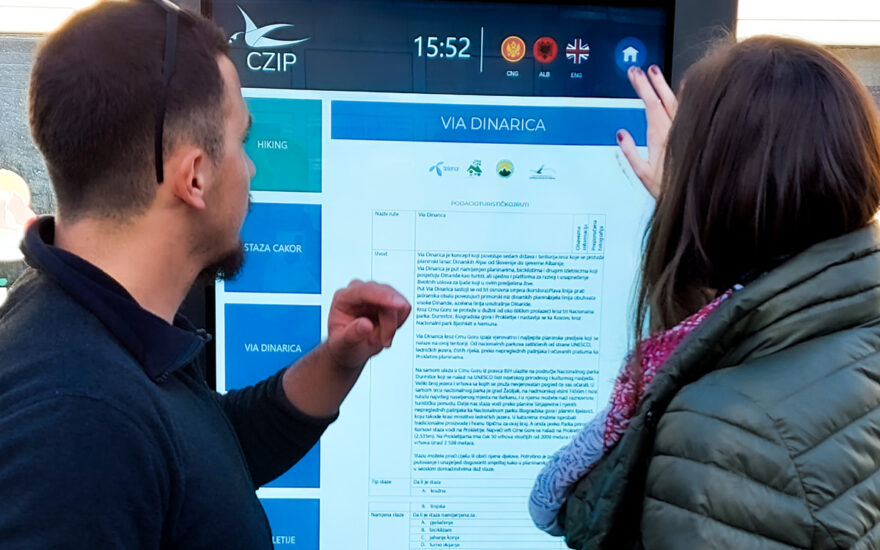 Hola systems have created a great application that brings destinations closer in a modern way and gives an insight into accommodation capacities, restaurants, and the content of the mountain. The activities and contents on the mountain are clearly shown, and the transport to the desired place on Prokletije. The interactive app includes the traveler by showing him the natural beauties of hiking and biking routes. These are routes sorted by interests and presented through the tourist application:
– Route of plants
– Game habitat route
– Cultural / historical route
– Village route.
There is always inspiration on the mountain for those who eager for stimulation. But even if you have no idea where to go, travel organizations with an interactive device and application provide complete information at the moment. The app is trilingual: Albanian, Montenegrin and English are represented.
As it is about cross-border cooperation between Kosovo and Montenegro, it was essential to emphasize in the application how to cross the border control without much waiting and avoid the feeling of other and foreign because no one wants to be burdened on vacation. Hola's application's essential information about crossing the border can be found, which runs on Hola's interactive display.
Impressions after the installation of the device and the application by the population are positive. Habitants of both Gusinje and Dečani take care of the Hola device as a good partner who understands them and respects their environment.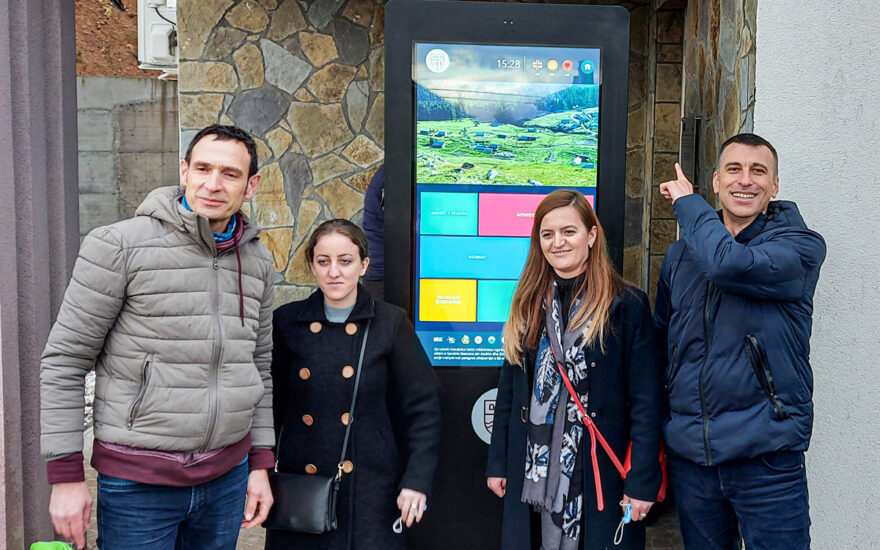 THROUGH DIGITAL SIGNAGE OVER PROKLETIJE AS A SYMBOL OF TOGETHERNESS
Awareness of togetherness is a virtue that every modern person should be proud of. Borders in the 21st century should be an outdated concept and should only concern border customs. Hola implemented the project that brought together two culturally and nationally different communities, but essentially the same. Prokletije have never been closer than at the moment when both sides of the mountain got their point of contact, which is small but essential for the population in need.
Connectivity is crucial. Prokletije as a symbol of unity are an excellent example of what cross-border cooperation should look like and the collaboration initiated by all associations dealing with tourism. By joining, small communities get an insight into accommodation capacities, a report on exciting facilities to tourists, the tourist offer of another municipality, etc. Thus, each tourist offer is placed at the right time to the traveler, who does not have to be informed in advance. Tourists get a clear presentation of what they can expect and offer a close or not close destination but is attractively and presented online. When you are connected with Hola digital signage technology, you have the correct information at the right time.
" ZAKLJUČAK : The benefits are many. The tourist saves time and feels comfortable in planning. These are the advantages of networking between two or more municipalities, cities, people.

All you need is just a touch, and Hola will connect you.
"
Tailor made hardware solutions
Expertise in various domains
You can leave your creative ideas to us. We offer an innovative approach to modern technology. The full commitment of our professional team of engineers and designers is tailored to your project. We can develop complex electronic and mechanical components.
We provide support & delivery
After the cooperation, the delivery of the device must be fast and professional. We take care of logistics, transport and protection against risks in transport through shipment insurance.
Partnership with major players in the industry
We provide our partners new ideas, a new perspective, we upgrade your business concept. Professional Hola's staff implements your every idea responsibly and with dedication. Respecting deadlines and agreed ideas is very important to us. Working with Hola Systems brings better results to your business.